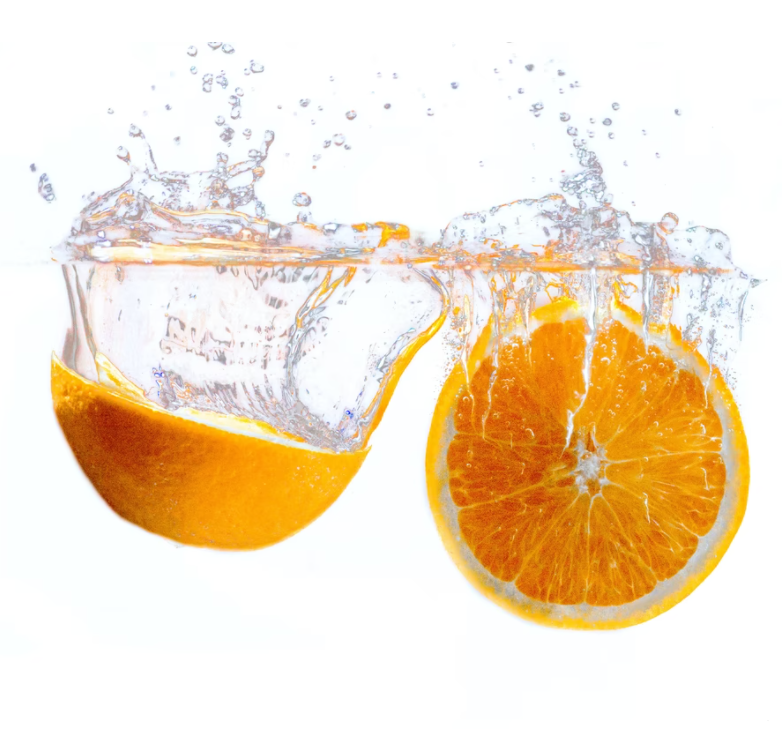 Orange juice (OJ) is widely consumed and linked with a wide range of potential health effects including antioxidant and anti-inflammatory actions, positive impacts on cardiovascular risk, cancer, mental health and cognitive function as well as gut health. Orange juice is a rich source of polyphenols mainly flavanones (hesperidin and narirutin) which, along with their break down products, contribute substantially to the health effects of the juice. In the US a study of 15,983 persons aged over 2 years found orange juice consumption was associated with higher intakes of bioactive flavonoids, lower added sugars, and higher-quality diets overall. They were also higher in vitamin C, potassium, calcium, vitamin D (adults), flavanones, and total flavonoids (children) as compared to non-consumers. So overall it was related to a greatly improved diet. Orange juice (OJ) is the most commonly consumed fruit juice in the United States, despite this, only 15.9% of the NHANES sample consumed any orange juice at all; of these 11.8% had <1 serving/day and only 3.4% had 1 serving/day or more. 1 My aim it to get people drinking a lot more orange juice because it is good for you.
Unfortunately, many people have demonised orange juice because of its sugar content without looking into the science. Unlike sugar sweetened beverages (SSBs), 100% fruit juice contains many potentially beneficial bioactive nutrients that are thought to alter the digestion, absorption and utilisation of the sugars and have protective health effects including fibre, polyphenols like hesperidin, vitamins and minerals. For example, hesperidin can modulate after meal sugar high by altering the way it is absorbed in the intestines.2 
In one experiment rats fed OJ over a 4 week period did not change body weight, blood sugar levels, oxidative stress nor glycation. While consumption of a matched volume of sugary solutions aggravated fasting glycaemia (blood sugar). The same sugary solutions impaired energy balance regulation, leading to higher caloric intake than fruit juices and controls, as well as weight gain, fasting hyperglycaemia, insulin intolerance and impaired oxidative stress/glycation markers in several tissues.3 See the difference.
While in a study of 20 overweight women 3 servings of 100% orange juice, unlike sucrose-sweetened beverage (SB), OJ did not significantly increase fasting or postprandial (after meal) lipoproteins (blood fats). And that the consumption of OJ at levels above the current dietary guidelines for sugar intake did not increase plasma uric acid concentrations compared with sucrose-SB 4. In fact, drinking more than just one glass of orange juice appears to have added benefits.
Overall, these and many other studies show that the sugar in fruit juice drinks behave very differently to sugar added drinks and does not lead to any negative effects. 
On the other hand many studies have now demonstrated the benefits of drinking orange juice. A review looking at hesperidin in 100% orange juice found improvements on global cognitive function, cardiac, insulin, inflammatory, antioxidant/phenolic, and oxidative stress outcomes and overall improving chronic disease biomarkers following consumption of hesperidin in 100% orange juice.5  This is just one of the many studies showing real health benefits. 
In a study of ten randomized controlled trials investigating cardiovascular disease (CVD), the greatest cause of premature death and disability, reported lowering effects of glucose, HOMA-IR, total cholesterol, and LDL-C in groups with orange juice consumption of 500 ml or more a day. Showing that orange juice is beneficial in improving multiple CVD risk factors at around 2 glasses a day.6  Similarly, other studies have also found orange juice to be associated with decreased total cholesterol, LDL and glucose concentration in humans 7. While similar results have also been found in rats given lemon juice 8.
A study of 10 healthy women drinking commercial pasteurized orange juice for 2 months reported improved blood biochemical parameters, such as low-density lipoprotein-cholesterol, glucose, and insulin sensitivity. The orange juice also positively modulated the composition and metabolic activity of microbiota in the gut, increasing the population of the good fecal bacteria (gut microbiota), bifidobacterium and lactobacillus and improved microbial metabolism with a reduction of ammonia and an increase of the production of SCFAs.9 The SCFA's are widely recognised as having many benefits in the gut and throughout the body.
Similar results were shown in another study of ten women who followed their regular diet plus 300 ml per day of orange juice for 60 days. At the end of the OJ-Diet, there was a reduction in glucose (-6.5%), insulin (-33%), insulin resistance (-44%), LDL-C (-16%) and triglycerides (-30%). The healthy intestinal bacteria, Lactobacillus, Akkermansia (often linked to improved diabetes 2), and Ruminococcus species also increased after the intervention with orange juice. Interestingly, once the study finished these parameters returned to their initial values.10 
Some have shown that consumers of 100% orange juice have lower body mass index (BMI), higher insulin sensitivity and lower odds of metabolic syndrome compared to non-consumers of 100% juice consumers 11,12,13
There is also lots of evidence for the role of Citrus fruits and their juices in cancer prevention and even treatment. In a review of 22 studies they concluded that Citrus juices and their derivatives have potential beefits against cancer.14 Studies using rodents has shown that OJ is cancer chemopreventive, influencing either the induction stage or the promotion stage of cancers.15 A 28 weeks study of rats reported decreased colon tumorigenesis associated with feeding orange juice.16  While at a cellular level orange fruit juice has a potential for causing both anti-proliferative (spreading) and drug like effects on fast proliferating cells and hence cancerous cells.17 
Studies have also shown OJ to improve mental health conditions and cognitive performance both short term and long term. A study of healthy young adults consuming 500-ml flavone rich orange juice drink enhance blood flow to the brain in healthy, young adults.18 In a study of middle aged males consuming a 240-ml of FR orange juice acutely enhance objective and subjective cognition (thinking) over the course of 6 hours in healthy middle-aged adults.19 Daily consumption of flavanone-rich 100% orange juice over 8 weeks improved cognitive function in healthy older adults 20. So if you want to be smarter and have a healthier brain drink more orange juice.
As already shown above orange juice can have a positive impact on the gut microbiome which has been shown to impact many different aspects of our health from asthma and allergies to cancer and cardiovascular disease. In an 8 weeks study with a daily drink of 380 mL, found it positively altered the gut microbiota due to flavonoid treatment and was related to a potential improvement in depression in young adults.21 While OJ improves gut health the gut is also critical for the digestion and absorption of the major flavonoids hesperidin and narirutin. With 84% or more of the flavonoids reaching the colon 22,23 they need to be converted by intestinal enzymes or bacteria. In the colon the healthy gut bacteria break down the flavonoids to transform flavonoids into chemicals that are much more easily absorbed and more active. 24 The more you drink the better they become at converting the flavonoids into more active and useful chemicals.
For me the message is clear. We need to get people, particularly kids and the elderly who are often malnourished drinking more orange juice.
References
1 Front Nutr. 2020; 7: 63. Published online 2020 May 13. doi: 10.3389/fnut.2020.00063 PMCID: PMC7237568 PMID: 32478089 Consumption of 100% Orange Juice in Relation to Flavonoid Intakes and Diet Quality Among US Children and Adults: Analyses of NHANES 2013–16 Data Matthieu Maillot,1 Florent Vieux,1 Colin Rehm,2 and Adam Drewnowski3,*
2 Br J Nutr. 2019 Apr;121(7):782-792. doi: 10.1017/S0007114519000084. Epub 2019 Jan 23.  Effect of the flavonoid hesperidin on glucose and fructose transport, sucrase activity and glycaemic response to orange juice in a crossover trial on healthy volunteers Asimina Kerimi  1 , Julia S Gauer  1 , Susannah Crabbe  1 , Jia W Cheah  1 , Jay Lau  1 , Rosa Walsh  2 , Paul F Cancalon  2 , Gary Williamson  1  PMID: 30670104 DOI: 10.1017/S0007114519000084 
3 Nutrients. 2021 Sep; 13(9): 2956. Published online 2021 Aug 25. doi: 10.3390/nu13092956 PMCID: PMC8468124 PMID: 34578832 Distinct Impact of Natural Sugars from Fruit Juices and Added Sugars on Caloric Intake, Body Weight, Glycaemia, Oxidative Stress and Glycation in Diabetic Rats Tamaeh Monteiro-Alfredo,1,2,3,4 Beatriz Caramelo,1,2,3 Daniela Arbeláez,1 Andreia Amaro,1,2,3 Cátia Barra,1,2,3,5 Daniela Silva,1,2,3 Sara Oliveira,1,2,3 Raquel Seiça,1 and Paulo Matafome1,2,3,6,*
4 Nutrients. 2021 Mar; 13(3): 760. Published online 2021 Feb 26. doi: 10.3390/nu13030760 PMCID: PMC7996959 PMID: 33652807 A Pilot Study Comparing the Effects of Consuming 100% Orange Juice or Sucrose-Sweetened Beverage on Risk Factors for Cardiometabolic Disease in Women Candice Allister Price,1,* Valentina Medici,2 Marinelle V. Nunez,3 Vivien Lee,1 Desiree M. Sigala,1 Yanet Benyam,1 Nancy L. Keim,3,4 Ashley E. Mason,5 Shin-Yu Chen,3 Mariana Parenti,3 Carolyn Slupsky,3 Elissa S. Epel,6 Peter J. Havel,1,3 and Kimber L. Stanhope1,7
5 Crit Rev Food Sci Nutr Actions. 2021 May 20;1-20. doi: 10.1080/10408398.2021.1927976. Impact of hesperidin in 100% orange juice on chronic disease biomarkers: A narrative systematic review and gap analysis Farah J Tadros , Jeanette Mary Andrade  1  PMID: 34014143 DOI: 10.1080/10408398.2021.1927976 
6 Crit Rev Food Sci Nutr . 2020 Dec 22;1-14. doi: 10.1080/10408398.2020.1865263. Online ahead of print. Impact of orange juice consumption on cardiovascular disease risk factors: a systematic review and meta-analysis of randomized-controlled trials Habeeb Alhabeeb  1 , Mohammad Hassan Sohouli  2   3 , Abolfazl Lari  2   3 , Somaye Fatahi  3   4 , Farzad Shidfar  3 , Osama Alomar  5 , Hany Salem  5 , Ismail A Al-Badawi  5 , Ahmed Abu-Zaid  6   7  PMID: 33350317 DOI: 10.1080/10408398.2020.1865263 
7 Aptekmann N.P., Cesar T.B. Long-term orange juice consumption is associated with low LDL-cholesterol and apolipoprotein B in normal and moderately hypercholesterolemic subjects. Lipids Health Dis. 2013;12:119. doi: 10.1186/1476-511X-12-119.
8 Oboh G., Bello F.O., Ademosun A.O., Akinyemi A.J., Adewuni T.M. Antioxidant, hypolipidemic, and anti-angiotensin-1-converting enzyme properties of lemon (Citrus limon) and lime (Citrus aurantifolia) juices. Comp. Clin. Path. 2015;24:1395–1406. doi: 10.1007/s00580-015-2088-x.
9 J Med Food. 2019 Feb;22(2):202-210. doi: 10.1089/jmf.2018.0080. Epub 2019 Jan 14. Effect of Daily Consumption of Orange Juice on the Levels of Blood Glucose, Lipids, and Gut Microbiota Metabolites: Controlled Clinical Trials Ana Carolina Delgado Lima  1 , Clara Cecatti  1 , Melaine Priscila Fidélix  1 , Maria Angela Tallarico Adorno  2 , Isabel Kimiko Sakamoto  2 , Thais Borges Cesar  1 , Katia Sivieri  1  PMID: 30638420  DOI: 10.1089/jmf.2018.0080 
10 Food Funct. 2020 Feb 26;11(2):1599-1610. doi: 10.1039/c9fo02623a. Microbiota modulation and effects on metabolic biomarkers by orange juice: a controlled clinical trial Melaine Fidélix  1 , Dragan Milenkovic  2 , Katia Sivieri  1 , Thais Cesar  1 PMID: 32016250 DOI: 10.1039/c9fo02623a 
11 O'Neil C.E., Nicklas T.A., Rampersaud G.C., Fulgoni V.L., 3rd 100% orange juice consumption is associated with better diet quality, improved nutrient adequacy, decreased risk for obesity, and improved biomarkers of health in adults: National Health and Nutrition Examination Survey, 2003–2006. Nutr. J. 2012;11:107. 
12 Scheffers F.R., Wijga A.H., Verschuren W.M.M., Van Der Schouw Y.T., Sluijs I., Smit A.H., Boer A.J.M. Pure Fruit Juice and Fruit Consumption Are Not Associated with Incidence of Type 2 Diabetes after Adjustment for Overall Dietary Quality in the European Prospective Investigation into Cancer and Nutrition–Netherlands (EPIC-NL) Study. J. Nutr. 2020;150:1470–1477. doi: 10.1093/jn/nxz340
13 Imamura F., O'Connor L., Ye Z., Mursu J., Hayashino Y., Bhupathiraju S.N., Forouhi N.G. Consumption of sugar sweetened beverages, artificially sweetened beverages, and fruit juice and incidence of type 2 diabetes: Systematic review, meta-analysis, and estimation of population attributable fraction. Br. J. Sports Med. 2016;50:496–504. doi: 10.1136/bjsports-2016-h3576rep
14 Front Pharmacol. 2017; 8: 420. Published online 2017 Jun 30. doi: 10.3389/fphar.2017.00420 PMCID: PMC5491624 PMID: 28713272 Anticancer Potential of Citrus Juices and Their Extracts: A Systematic Review of Both Preclinical and Clinical Studies Santa Cirmi,1,2,† Alessandro Maugeri,1,2,† Nadia Ferlazzo,1 Sebastiano Gangemi,3 Gioacchino Calapai,4 Udo Schumacher,5 and Michele Navarra1,*
15 Nutr Cancer. 2013;65(7):943-53. doi: 10.1080/01635581.2013.817594. Epub 2013 Aug 6. Orange juice and cancer chemoprevention Silvia Isabel Rech Franke  1 , Temenouga Nikolova Guecheva, João Antonio Pêgas Henriques, Daniel Prá PMID: 23919376 DOI: 10.1080/01635581.2013.817594 
16 Nutr Cancer. 2000;36(2):224-9. doi: 10.1207/S15327914NC3602_12. Inhibition of azoxymethane-induced colon cancer by orange juice Y Miyagi  1 , A S Om, K M Chee, M R Bennink PMID: 10890034  DOI: 10.1207/S15327914NC3602_12 
17 Int J Appl Basic Med Res. 2014 Sep;4(Suppl 1):S20-2. doi: 10.4103/2229-516X.140711. Evaluation of the anti-proliferative and cytostatic effect of Citrus sinensis (orange) fruit juice Enegide Chinedu  1 , David Arome  1 , Solomon F Ameh  1 , Gift E Ameh  2  PMID: 25298937 PMCID: PMC4181126  DOI: 10.4103/2229-516X.140711 
18 Br J Nutr. 2016 Dec;116(12):2160-2168. doi: 10.1017/S000711451600430X. Epub 2017 Jan 16. The effects of flavanone-rich citrus juice on cognitive function and cerebral blood flow: an acute, randomised, placebo-controlled cross-over trial in healthy, young adults Daniel J Lamport  1 , Deepa Pal  1 , Anna L Macready  2 , Sofia Barbosa-Boucas  1 , John M Fletcher  3 , Claire M Williams  1 , Jeremy P E Spencer  2 , Laurie T Butler  1  PMID: 28091350 DOI: 10.1017/S000711451600430X 
19 Eur J Nutr. 2016; 55(6): 2021–2029. Published online 2015 Aug 18. doi: 10.1007/s00394-015-1016-9 PMCID: PMC5009163 PMID: 26280945 Flavonoid-rich orange juice is associated with acute improvements in cognitive function in healthy middle-aged males Mudi H. Alharbi,2 Daniel J. Lamport,1 Georgina F. Dodd,1 Caroline Saunders,3 Laura Harkness,3 Laurie T. Butler,1 and Jeremy P. E. Spencer2
20 Am J Clin Nutr. 2015 Mar;101(3):506-14. doi: 10.3945/ajcn.114.088518. Epub 2015 Jan 14. Chronic consumption of flavanone-rich orange juice is associated with cognitive benefits: an 8-wk, randomized, double-blind, placebo-controlled trial in healthy older adults Rebecca J Kean  1 , Daniel J Lamport  1 , Georgina F Dodd  1 , Jayne E Freeman  1 , Claire M Williams  1 , Judi A Ellis  1 , Laurie T Butler  1 , Jeremy P E Spencer  1  PMID: 25733635 DOI: 10.3945/ajcn.114.088518 
21 Nutrients. 2020 Jun; 12(6): 1815. Published online 2020 Jun 18. doi: 10.3390/nu12061815 PMCID: PMC7353347 PMID: 32570775 Flavonoid-Rich Orange Juice Intake and Altered Gut Microbiome in Young Adults with Depressive Symptom: A Randomized Controlled Study Miey Park,1,† Jihee Choi,1,† and Hae-Jeung Lee1,2,*
22 Pereira-Caro G, Borges G, Van Der Hooft J, et al. Orange juice (poly) phenols are highly bioavailable in humans. Am J Clin Nutr. 2014;100(5):1378–1384. doi: 10.3945/ajcn.114.090282. 
23 Silveira JQ, Cesar TB, Manthey JA, Baldwin EA, Bai J, Raithore S. Pharmacokinetics of flavanone glycosides after ingestion of single doses of fresh-squeezed orange juice versus commercially processed orange juice in healthy humans. J Agric Food Chem. 2014;62:12576–12584. doi: 10.1021/jf5038163. 
24 Roowi S, Mullen W, Edwards CA, Crozier A. Yoghurt impacts on the excretion of phenolic acids derived from colonic breakdown of orange juice flavanones in humans. Mol Nutr Food Res. 2009;53(S1):S68–S75. doi: 10.1002/mnfr.200800287.