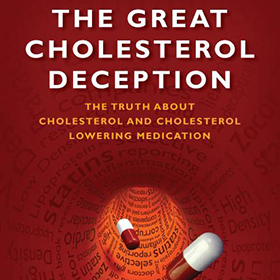 Not only is cholesterol not the enemy, but also it is essential to good health and wellbeing. Every cell in the body needs cholesterol in its membrane, where cholesterol plays a critical role in cell communication. Without cholesterol, cell membranes are incomplete and, as a result, their functional role deteriorates. Cholesterol is also used in the mitochondria of the cell and plays a vital role in cell energy production—not to mention its essential role in the brain structure and function. Cholesterol is the starting material of many essential chemicals including vitamin D, steroid hormones and the bile acids necessary for digestion.
For major drug companies, convincing the public that lower cholesterol levels equal good health is a marketing scheme. The goal of these companies is not your good health; it's their profits. This "marketing messaging" has gone too far, especially considering that recent studies show that cholesterol may have protective properties against cancer.
Cholesterol is the most abundant organic molecule in the brain which contains almost a quarter of the unesterified cholesterol present in the entire body. In 2001, in groundbreaking research and with media fanfare, cholesterol was identified as the synaptogenic factor that is responsible for the development of synapses, the connections in the brain. The glial cells of the central nervous system that perform the housekeeping functions in the brain produce their own cholesterol for the specific purpose of providing nerve cells with the vital component required for synapse function. Cholesterol is also required for the function of serotonin receptors in the brain. Serotonin is the chemical in our brain that makes us feel happy. Low cholesterol level has been associated with mortality due to suicides and accidental deaths
A thirty-year study published in 1987 provides evidence that elevated cholesterol in people over the age of 50 does not increase the risk of heart attack. Cholesterol levels of people free of coronary heart disease (CHD) and cancer were measured; the study found that there was no increase in death rate in those with high cholesterol. Research on the effects of cholesterol levels and age shows that high cholesterol levels in people over the age of 75 are protective, not harmful. A separate study published in the European Heart Journal (1997) found that the risk of cardiac death was the same in groups of people with low or normal cholesterol levels as those with high cholesterol.
Maybe we need to rethink the billions of dollars we spend each year on drugs that lower cholesterol and spend the money on the real risk factors associated with cardiovascular disease: our lifestyles and choices, including nutritional and environmental factors that increase inflammation.
Stay tuned because there is more to come over the next weeks.