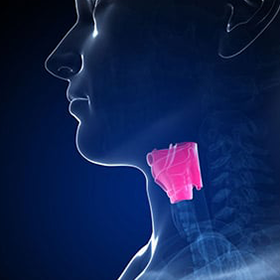 The human endocrine systems such as the thyroid are susceptible to disruption by naturally occurring and human-made compounds, possibly by affecting the hormone balance. These Endocrine Disrupting Chemicals (EDCs) are a wide class of compounds such as organochlorine pesticides (most banned now in the developed world but still hanging around in the environment and food), industrial wastes, plastics and plasticizers, fuels and numerous other elements that exist in the environment or are in high use during daily life.  Endocrine disrupting chemicals (EDC) are released into environment from different sources and are widely used in packaging industries, pesticides and food constituents. In fact we are exposed to them multiple times every day (but you can reduce your exposure).
One group of these EDC's is Perfluoroalkyl substances (PFASs) which have well established Endocrine-disrupting abilities and are a group of manufactured chemicals that have been used since the 1950s in a range of common household products and specialty applications, including in the manufacture of non-stick cookware; fabric, furniture and carpet stain protection applications; food packaging; some industrial processes; and in some types of fire-fighting foam where recently they have had a lot of negative attention. Apart from everyday sources around the home and office PFASs are passed to humans through air, house dust, drinking water, and water-based beverages.
EDCs interfere, temporarily or permanently, with hormonal signaling pathways in the endocrine system by binding to hormone receptors and modifying gene expression -epigenetics. Other mechanisms involve alterations in production, metabolism, and transfer of hormones. 
While most people and authorities continue to ignore the seriousness of exposure to these chemicals the gravity of the problem is highlighted by the fact that the Endocrine Society, a group of ultra conservative medical professionals, first reported on the seriousness of the problem back in 2009. Since then a substantially larger body of literature has solidified our understanding of plausible mechanisms underlying EDC actions and how exposures in animals and humans-especially during development-may lay the foundations for disease later in life. 
Now we have much stronger knowledge about how EDCs alter gene-environment interactions via physiological, cellular, molecular, and epigenetic changes, thereby producing effects in exposed individuals as well as our kids and grandkids. There are large amounts of evidence for their impact on obesity and diabetes; female and male reproduction; hormone-sensitive cancers in females; prostate; thyroid; and neurodevelopment and neuroendocrine systems including Alzheimer disease, schizophrenia and nerve damage. 
Thyroid hormones are crucial in normal brain development. Transient and mild thyroid hormone insufficiency in pregnancy is also associated with impaired neurodevelopment in the offspring (e.g., 3-4 IQ score loss in association with maternal free thyroxine in the lowest level group). Experimental studies have shown that exposures to EDCs affect various brain processes such as the development of brain neurons, neural differentiation and migration, as well as neural connectivity. Neuroimaging studies confirm brain shape (morphological) abnormalities consistent with neurodevelopmental impairments as a result of EDC exposures at "normal" use levels. 
Environmental chemicals that interfere with TH signaling mechanisms (Endocrine Disrupting Chemicals, EDCs) may produce adverse effects both in the individual and in a population. Because of the complex nature of the regulation of thyroid function and TH action, the consequences of EDC exposure is also likely to be complex. Circulating levels of Thyroid Hormones (THs) are maintained within a relatively narrow range1 in large part by a negative feedback relationship between circulating levels of THs and those of Thyroid Stimulating Hormone (TSH). Imagine what happens when it is all put out of balance by these chemicals.

In addition, the impact of these chemicals can be immediate, chemicals that can displace TH from these binding proteins may cause a very rapid decline in serum hormone levels. For example, salicylate can cause a rapid (within 2 minutes) and dramatic reduction in serum T4. This is also true for environmental chemicals such as PCBs.  PCB's were used extensively in the 1960-70s and while they are banned now they are still found in our food chain
On a positive note ,other than reducing your exposure to EDC's by reading the labels on the products you buy, especially cosmetic and personal care products and learning more (reading my book Dangerous Beuaty), healthy levels of iodine significantly reduce the vulnerability and susceptibility to the effects of EDC's. The impact of thyroid disorders is significantly associated with iodine supply and it s generally agreed that iodine deficiency predisposes the thyroid gland to harmful effects of EDCs.
So what are your iodine levels?
Arh Hig Rada Toksikol. 2016 Jun 1;67(2):93-8. doi: 10.1515/aiht-2016-67-2725. Epidemiological Trends of Iodine-Related Thyroid Disorders: An Example From Slovenia  Simona Gaberšček, Katja Zaletel  DOI: 10.1515/aiht-2016-67-2725 
Life Sci. 2016 Jan 15;145:265-73. doi: 10.1016/j.lfs.2015.10.022. Epub 2015 Oct 21. Review of Endocrine Disorders Associated With Environmental Toxicants and Possible Involved Mechanisms Faheem Maqbool  1 , Sara Mostafalou  2 , Haji Bahadar  3 , Mohammad Abdollahi   DOI: 10.1016/j.lfs.2015.10.022 
Front Endocrinol (Lausanne). 2018 Apr 30;9:204. doi: 10.3389/fendo.2018.00204. eCollection 2018. Disruption in Thyroid Signaling Pathway: A Mechanism for the Effect of Endocrine-Disrupting Chemicals on Child Neurodevelopment Akhgar Ghassabian  1   2   3 , Leonardo Trasande  1   2   3   4   5 
Affiliations PMCID: PMC5936967 DOI: 10.3389/fendo.2018.00204 
Neurotoxicology. 2012 Aug;33(4):842-52. doi: 10.1016/j.neuro.2011.11.005. Epub 2011 Nov 25. Developmental Thyroid Hormone Disruption: Prevalence, Environmental Contaminants and Neurodevelopmental Consequences Mary E Gilbert  1 , Joanne Rovet, Zupei Chen, Noriyuki Koibuchi PMID: 22138353 DOI: 10.1016/j.neuro.2011.11.005 
Hormones (Athens) . Jan-Mar 2010;9(1):28-40. doi: 10.14310/horm.2002.1250. Environmental Chemicals Targeting Thyroid Thomas R Zoeller  1  DOI: 10.14310/horm.2002.1250 
Endocr Rev. 2015 Dec;36(6):E1-E150. doi: 10.1210/er.2015-1010. Epub 2015 Nov 6.  EDC-2: The Endocrine Society's Second Scientific Statement on Endocrine-Disrupting Chemicals 
A C Gore  1 , V A Chappell  1 , S E Fenton  1 , J A Flaws  1 , A Nadal  1 , G S Prins  1 , J Toppari  1 , R T Zoeller  PMCID: PMC4702494  DOI: 10.1210/er.2015-1010