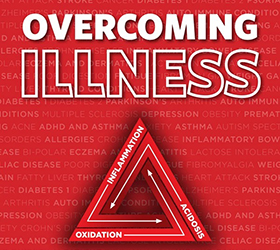 If you have been to one of my talks you would have heard me emphasize the importance of inflammation and the need to lower your body's chronic inflammation levels. Of course one of the major sources of ongoing chronic inflammation is the gut.
Inflammation is literally the body "on fire" and is a primary immune mechanism response of the body to a range of noxious stimuli. This can include infectious agents, such as bacteria or virus, oxidation or acidosis, damaged or diseased tissues.
The main function of inflammation is a short-term response to resolve infection and to repair damage in order to achieve homeostasis (balance) in the body. The ideal inflammatory response is therefore rapid and destructive, yet specific and very limited. This is the reddening and swelling you see around any infected or injured area. Most of us are familiar with redness, heat, swelling, and pain associated with inflammation. These symptoms are created by the activity of immune cells working to break down injured and dying tissues so that new, healthy ones can replace them.
Unfortunately, we have created a situation in which we now suffer from chronic low-level inflammation over decades of our lives as a result of our unhealthy and unbalanced lifestyles and diet. Chronic inflammation is being shown to be involved in the onset and the development of most, if not all, chronic illnesses that are currently at epidemic proportions in our society. These include atherosclerosis (damaged and blocked arteries), heart disease, stroke, obesity, neurodegenerative diseases, depression, Alzheimer's, Parkinson's disease, thyroid disorders, diabetes, asthma, autism, arthritis, celiac disease, eczema, psoriasis, multiple sclerosis, lupus, migraines, periodontal disease, sleep apnea, chronic kidney failure, cancer and ageing. This is a long list, yet these are only the most common conditions.
Even though chronic inflammation in the body is hard to detect, there are some common symptoms for which we should be on the lookout. These include the following:
Chronic pain in the joints and/or muscles
Allergies or asthma
Elevated blood pressure
Fluctuations in blood sugar levels
Gut issues (constipation or diarrhoea)
Fatigue
Aches, pain and soreness
The inflammatory process is driven by the immune system. In order to reduce the incidence of disease, you must reduce inflammation, and to reduce inflammation you must identify and eliminate immune system trigger(s). The typical approach of allopathic medicine is to treat the symptoms of the disease itself, or the immune system (with immune-suppressive drugs) or inflammation (with anti-inflammatory drugs) directly without addressing the underlying cause of the disease. Sustainable health, on the other hand, looks at identifying and eliminating the sources of the inflammation to address the situation at its cause.
[1] Shelton and Miller 2010.
[2] Schwarzenberg and Sinaiko 2006.
[3] Taubes 2002; Ridker et al. 1997, 2000.