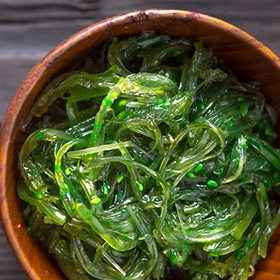 Seaweed has grown increasingly popular in the Western diet but in addition to the food value of seaweed, several health benefits have also been reported to be present in this valuable food source. It is presumed that the unique features of the marine environment, where the seaweeds are grown, are mainly responsible for most of its properties. Among the functional effects of the seaweed, nutritional and health-related benefits have been widely studied. Compared to the terrestrial plants and animal-based foods, seaweed is rich in some health-promoting molecules and materials such as, dietary fiber, ω-3 fatty acids, essential amino acids, and vitamins A, B, C, and E.
Recently, some studies have focused on the association between diet and depressive symptoms and indicated that a healthy Japanese dietary pattern, characterized by a high intake of vegetables, mushrooms, soy products, and seaweeds, was associated with a lower prevalence of depressive symptoms. Among these food items of the traditional Japanese dietary pattern, which includes traditional sea vegetables, seaweed has been considered as a nutrient-rich dietary source of minerals, vitamins, and dietary fiber. Moreover, seaweed is also a rich source of antioxidants and anti-inflammatory properties. In a prospective study of 500 Japanese aged 20–74 years found a higher seaweed intake and a lower incidence of depressive symptoms. While in an earlier study they reported higher seaweed consumption was independently associated with a lower prevalence of depressive symptoms during pregnancy
It is hypothesized that the inverse association between changes in seaweed intake and depressive symptoms may be explained by many nutrients contained in seaweed, including folate, vitamin B6, vitamin B12, and n-3 polyunsaturated fatty acids (PUFAs).
Time to eat more seaweed.
Dietary seaweed intake and depressive symptoms in Japanese adults: a prospective cohort study Feng Guo, Cong Huang, Yufei Cui, Haruki Momma, Kaijun Niu Ryoichi Nagatomi Nutrition Journal volume 18, Article number: 58 (2019).